27 SEPT 2020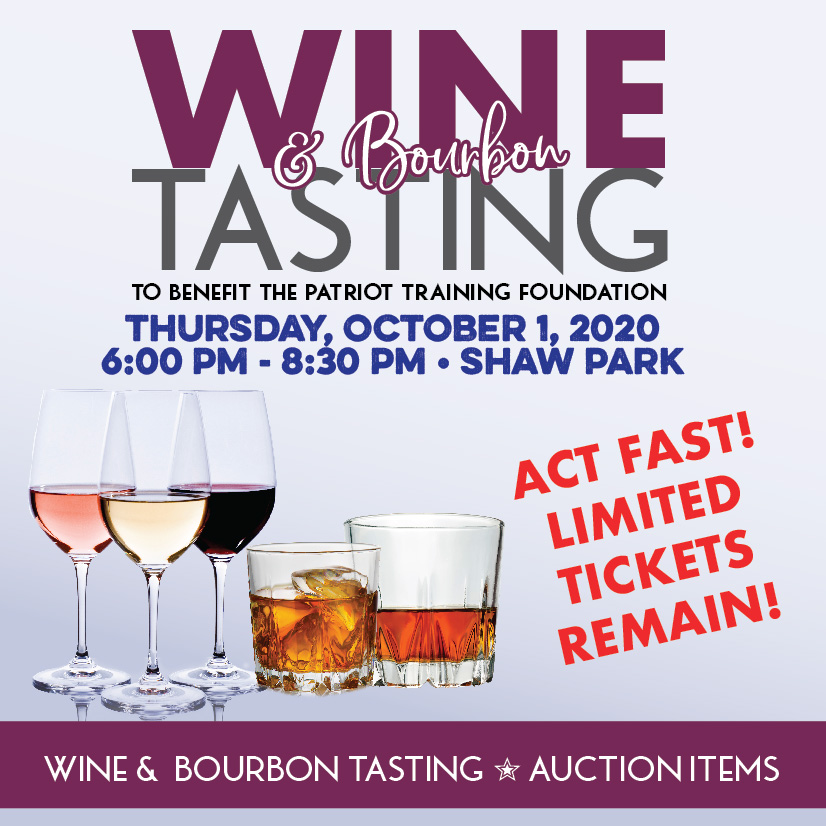 Join us at our outdoor Wine & Bourbon Tasting Event this Thursday, October 1 from 6pm – 8:30pm! We have just a few tickets left, so act fast to reserve your space!
Enjoy a small outdoor event while supporting a great cause! We have some phenomenal auction items including a rare, sought after bottle of bourbon, several bottles of wine from Component Wine, gift cards from Blush and Laurie Solet and a week at a lake house!
Thank you to our incredible event sponsors – homza – fractional CFO services, Roger Cammon and Scott Combs for helping make this event possible!
---
Virtual Fitness Challenge Oct. 11-17
During the week of October 11-17, 2020 join our Virtual Challenge. Whether you run, jog, walk, swim, row, bike, finish a Shark Fitness boot camp or dominate some Military PT you will be supporting the Patriot Training Foundation and keeping fit during the pandemic! The instructions are simple: complete any activity at any distance for any length of time in any location you choose and log your results on our Virtual Challenge. Prizes for the participant with the most activity logged and our top fundraiser!
---
17 SEPT 2020
We urgently need your help! COVID-19 forced us to cancel or dramatically scale back our 2020 fundraising events that support the young men and women from the St. Louis region aspiring to be or serving as military leaders and our regional law enforcement departments.

While the pandemic cancelled our fundraisers, we were able to shift our summer training this year to continue to provide training, guidance and support to our trainees. We conducted some remarkable Zoom leadership calls with active duty and retired military and PTF alums, Zoom PT four times per week since March and some small group outdoor training including land navigation, obstacle course skills and marksmanship. Our trainees also participated in Operation Salute with the Greater St. Louis Honor Flight, a mission of parades to honor our veterans who have had their Honor Flights postponed because of the pandemic. Our Plebe (freshmen) service academy and ROTC trainees are reporting exceptional starts to their programs!

We proudly stand with the men and women who risk their lives to protect our nation and communities. Will you stand with us by making a financial donation, attending our upcoming wine and bourbon tasting or participating in our virtual challenge?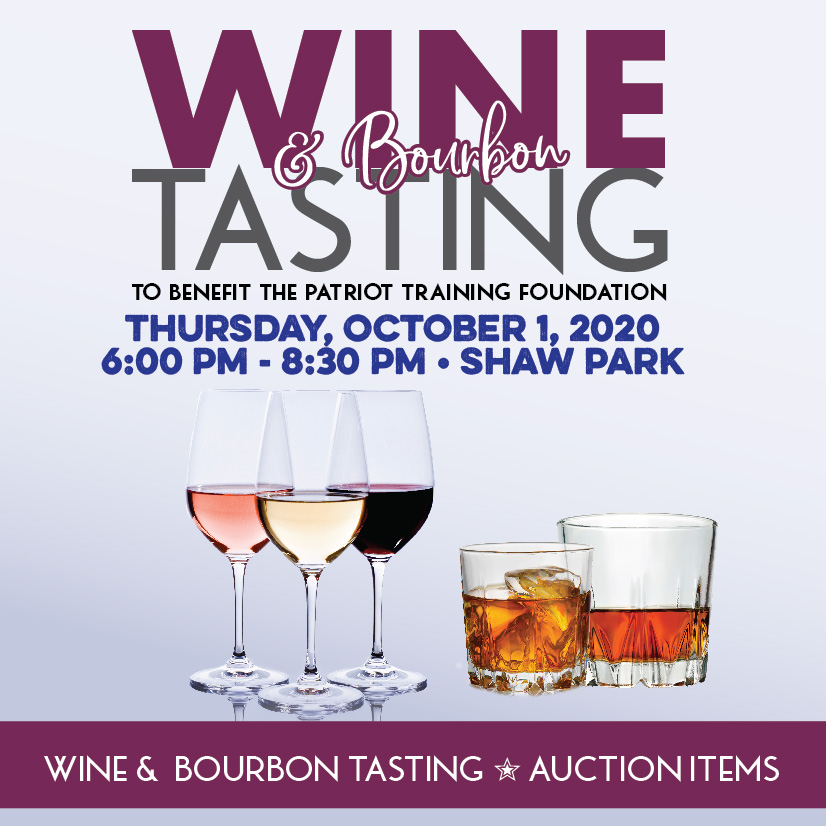 Join us for an Outdoor Wine and Bourbon Tasting Event
You are invited to our rescheduled and scaled down outdoor Wine and Bourbon Tasting Event on Thursday, October 1, 2020!
VERY LIMITED TICKETS AVAILABLE!
Thursday, October 1, 2020
6:00 PM – 8:30 PM
Shaw Park – Clayton
Enterprise (Main) Pavilion
27 S. Brentwood Blvd.
Clayton, MO 63105
$75 per person • $1,000 to sponsor the event
Wine & Bourbon Tasting • Auction Items
Auction items include a weeklong stay in the Ozarks and some incredible wines donated by Component Wines!
Dress is smart casual + a mask for interaction with our beverage representatives. Tables will be spaced out.
If you are unable to attend, please consider making a monetary donation to support our mission.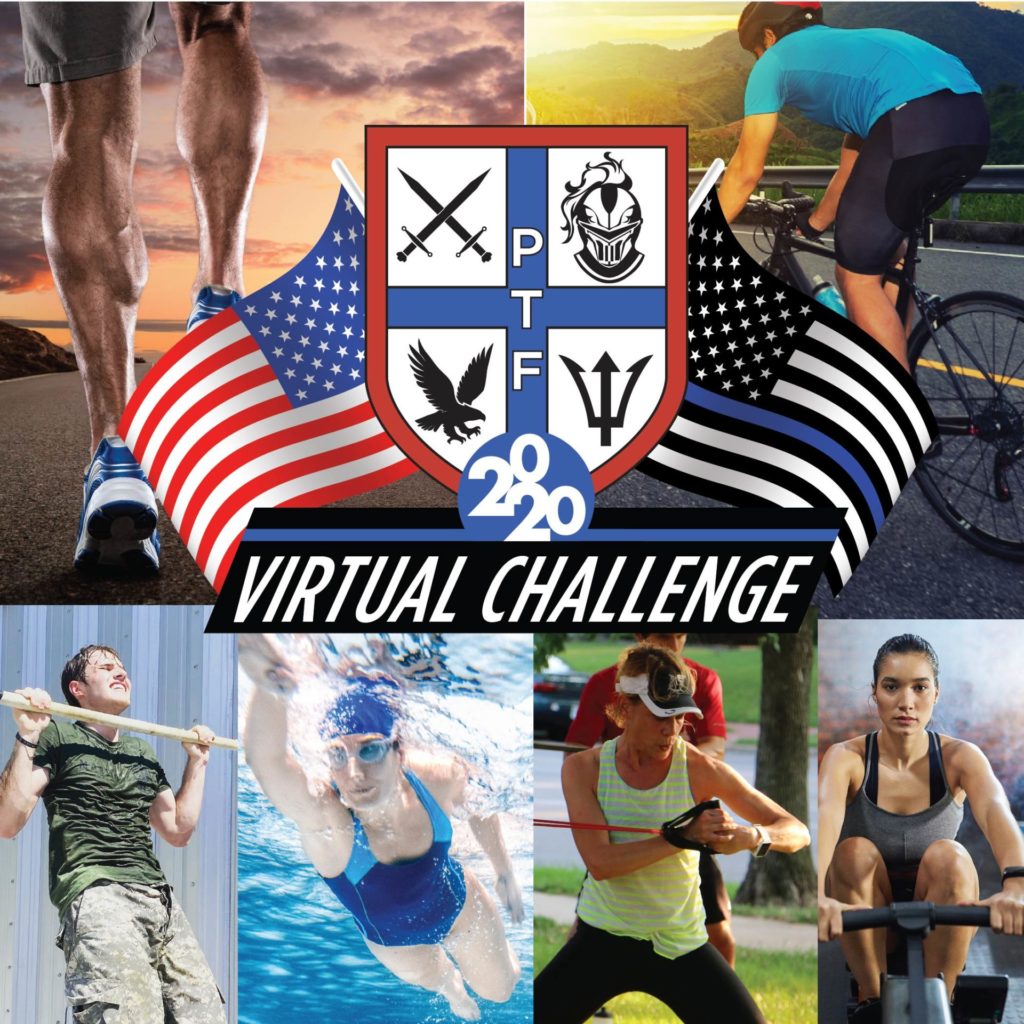 Sign Up for our Virtual Fitness Challenge – just $20 to participate!
During the week of October 11-17, 2020 join our Virtual Challenge for the Patriot Training Foundation. Whether you run, jog, walk, swim, row, bike, finish a Shark Fitness Training boot camp class or dominate some military PT you will be supporting PTF and the brave men and women from our area that head into military leadership and law enforcement.
THE INSTRUCTIONS ARE SIMPLE!
1. Register
2. Sign up to be a Fundraiser (optional) and inspire support from your network
3. Complete your activity October 11-17, 2020 – any distance, any length of time in any location you choose and log your results on your Virtual Challenge dashboard.
4. Check the leaderboard frequently!
The participant with the highest number of activity minutes for the week will get a patriotic prize package plus bragging rights!
The highest fundraiser will receive a $100 gift card to Benchmade.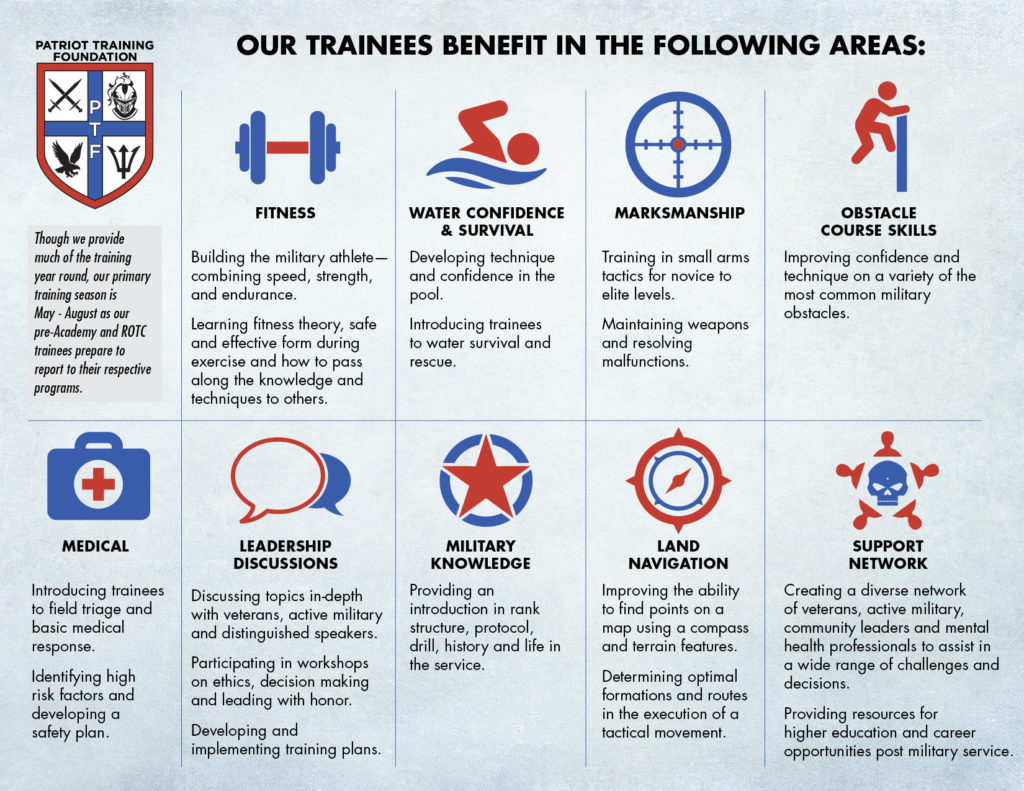 About the Patriot Training FoundationSince 2004, the Patriot Training Foundation (formerly known as the Saint Louis Military Officer Support Foundation) has provided training without cost to those from the Greater St. Louis area who aspire to, or currently serve in the Armed Forces of the United States. Our all-volunteer group of veterans, active duty personnel and subject matter experts provide training in the areas of physical fitness, weapons, combatives, water survival & rescue, fieldcraft and most of all, leadership. As a result, our trainees enter the military academies, ROTC, Officer Candidate School and basic training with a tremendous advantage in these highly competitive environments. Our trainees routinely earn top leadership positions throughout their training and the most sought-after jobs after earning their commission. After 16 years, our alumni hold positions in most jobs across all branches including aviation, infantry, medical, legal, logistics and a disproportionately high number of people in the Special Operations community. They provide a priceless network opportunity and experience for our younger cadets, midshipmen and enlistees. Our program is available as long as they continue to serve. As our first generation of PTF trainees leave the military, our network assists them in finding higher education and career opportunities.
In 2014, PTF extended our program to law enforcement in the Greater St. Louis area. Four years ago, Breckenridge Material donated the use of 500+ acres an hour west of St. Louis. We have developed this property to a tier one training facility like no other in the Midwest. It includes several tactical firearms ranges, an obstacle course, unparalleled long-range possibilities, open water diving, a classroom and a mine with 400,000 sq ft. This property, along with our advanced training, is a used by federal, state and local law enforcement without cost. For years, police departments have suffered from a lack of high-end, realistic training due to budget shortfalls. In some cases, we provide the ammunition to departments that cannot afford to acquire it on their own. Recent events have greatly intensified not only the lack of funding, but a very hostile work environment that the honorable men and women who serve our communities do not deserve. The role of the Patriot Training Foundation has never been more crucial to law enforcement than it is now.